Alabama State Facts and Symbols
Alabama became the 22nd state in 1819 and is the 24th largest state by population with about 4.9 million residents. It is also the 28th largest state by land and water area with a total area of 52,419 square miles. Birmingham is Alabama's largest city with a population of approximately 230,000.
Alabama became open for white stettlement after the defeat of the Creek Indians. Settlers from other states came to Alabama by the thousands for its fertile land, good for growing cotton. Alabama was formerly under Mississippi territorial law, but when Mississippi became a state, Congress created the Alabama Territory.
Included below are more facts and symbols, a state map, the state song and views of the Alabama State Quarter.
---
---
Alabama State Flag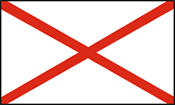 ---
Alabama State Facts
Alabama State Capital - Montgomery
State Nickname - Alabama has no official state nicknames, but has been referred to as The Heart of Dixie, The Cotton State and The Yellowhammer State
State Flower - Camellia
State Wildflower - Oak-leaf Hydrangea
State Tree - Southern Longleaf Pine
State Bird - Yellowhammer
State Game Bird - Wild Turkey
State Butterfly - Eastern Tiger Swallowtail
State Fish - Largemouth Bass
State Insect - Monarch Butterfly
State Reptile - Alabama Red-bellied Turtle
State Mammal - Black Bear
State Amphibian - Red Hills Salamander
State Horse - Racking Horse
State Dance - Square Dance
State Mineral - Hematite(Red Iron Ore)
State Gemstone - Star Blue Quartz
State Fossil - Basilosaurus cetoides
State Rock or Stone - Marble
State Fruit - Blackberry and Peach
Official State Web Site - www.alabama.gov
---
---
---
Alabama State Song:
Alabama
Words by Julia S. Tutwiler
Music by Edna Gockel Gussen
Alabama, Alabama,
We will aye be true to thee,
From thy Southern shore where groweth,
By the sea thine orange tree.
To thy Northern vale where floweth
Deep and blue thy Tennessee.
Alabama, Alabama
We will aye be true to thee!
Broad the Stream whose name thou bearest;
Grand thy Bigbee rolls along;
Fair thy Coosa-Tallapoosa
Bold thy Warrior, dark and strong.
Goodlier than the land that Moses
Climbed lone Nebo's Mount to see
Alabama, Alabama,
We will aye be true to thee!
From thy prairies broad and fertile,
Where thy snow-white cotton shines.
To the hills where coal and iron
Hide in thy exhaustless mines.
Strong-armed miners--sturdy farmers:
Loyal hearts what'er we be.
Alabama, Alabama,
We will aye be true to thee!
From the quarries where the marble
White as that of Paros gleams
Waiting till thy sculptor's chisel,
Wake to like thy poet's dream;
For not only wealth of nature,
Wealth of mind hast thou to fee.
Alabama, Alabama,
We will aye be true to thee!
Where the perfumed south-wind whispers,
Thy magnolia groves among,
Softer than a mother's kisses
Sweeter than a mother's song;
Where the golden jasmine trailing,
Woos the treasure-laden bee,
Alabama, Alabama,
We will aye be true to thee!
Brave and pure thy men and women,
Better this than corn and wine,
Make us worthy, God in Heaven,
Of this goodly land of Thine;
Hearts as open as our doorways,
Liberal hands and spirits free,
Alabama, Alabama,
We will aye be true to thee!
Little, little, can I give thee,
Alabama, mother mine;
But that little--hand, brain, spirit,
All I have and am are thine.
Take, O take the gift and giver.
Take and serve thyself with me,
Alabama, Alabama,
I will aye be true to thee.
---
---
Alabama State Quarter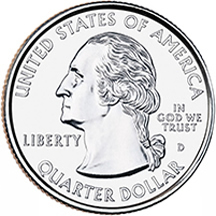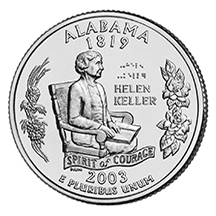 United States Mint 50 State Quarters© Program coin:
(United States Mint Images)
---