Alaska State Facts and Symbols
Alaska became the 49th state in 1959 and is by far the largest state by land and water area with a total area of 663,267 square miles. It is also the 48th largest state by population with about 700,000 residents. Anchorage is the largest city in Alaska with a population of approximately 280,000 people.
Seventeen of the twenty highest peaks in the United States are in Alaska. Alaska has about 100,000 glaciers of all sizes which cover five percent of the state. The discovery of gold is what brought thousands of people to Alaska.
Included below are more facts and symbols, a state map, the state song and views of the Alaska State Quarter.
---
---
Alaska State Flag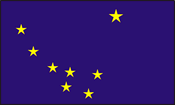 ---
Alaska State Facts
Alaska State Capital - Juneau
State Nickname - The Last Frontier
State Motto - North to the Future
State Flower - Forget-me-not
State Tree - Sitka Spruce
State Bird - Willow Ptarmigan
State Fish - Giant King Salmon
State Insect - Four Spot Skimmer Dragonfly
State Mammal - The Moose and the Bowhead Whale
State Mineral - Gold
State Gemstone - Jade
State Fossil - Wooly Mammoth
State Sport - Dog Mushing
Official State Web Site - alaska.gov
---
---
---
Alaska State Song:
Alaska's Flag
Eight stars of gold on a field of blue,
Alaska's flag, may it mean to you,
The blue of the sea, the evening sky,
The mountain lakes and the flowers nearby,
The gold of the early sourdough's dreams,
The precious gold of the hills and streams,
The brilliant stars in the northern sky,
The "Bear," the "Dipper," and shining high,
The great North Star with its steady light,
O'er land and sea a beacon bright,
Alaska's flag to Alaskans dear,
The simple flag of a last frontier.
---
---
Alaska State Quarter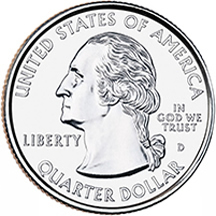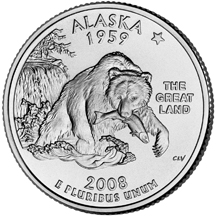 United States Mint 50 State Quarters© Program coin:
(United States Mint Images)
---