Arizona State Facts and Symbols
Arizona became the 48th state in 1912 and is the 14th largest state by population with about 7.1 million residents. It is also the 6th largest state by land and water area with a total area of 113,998 square miles. Phoenix, which is the capital city of Arizona, is the nation's fifth largest city with a population of over 1.5 million people.
The name Arizona is based on two words. The first is "arizuma" which is an Aztec Indian word meaning "silver-bearing." The second is "arizonac" which is a Pima Indian word meaning "little spring place."
Included below are more facts and symbols, a state map, the state song and views of the Arizona State Quarter.
---
---
Arizona State Flag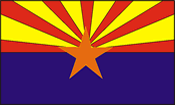 ---
Arizona State Facts
Arizona State Capital - Phoenix
State Nickname - The Grand Canyon State
State Flower - Saguaro Blossom
State Tree - Palo Verde
State Bird - Cactus Wren
State Butterfly - Two-tailed Swallowtail
State Fish - Arizona Trout
State Reptile - Arizona Ridge-nosed Rattlesnake
State Amphibian - Arizona Treefrog
State Mammal - Ringtail
State Gemstone - Turquoise
State Fossil - Petrified Wood
State Colors - Federal Blue and Old Gold
State Neckwear - Bola Tie
Official State Web Site - az.gov
---
---
---
Arizona State Song:
Arizona
Written by Margaret Rowe Clifford
Composed by Maurice Blumenthal
Come to this land of sunshine
To this land where life is young.
Where the wide, wide world is waiting,
The songs that will now be sung.
Where the golden sun is flaming
Into warm, white shining day,
And the sons of men are blazing
Their priceless right of way.
chorus
Come stand beside the rivers
Within our valley broad.
Stand here with heads uncovered,
In the presence of our God!
While all around, about us
The brave, unconquered band,
As guardians and landmarks
The giant mountains stand.
chorus
Not alone for gold and silver
Is Arizona great.
But with graves of heroes sleeping,
All the land is consecrate!
O, come and live beside us
However far ye roam
Come and help us build up temples
And name those temples "home."
chorus
Sing the song that's in your hearts
Sing of the great Southwest,
Thank God, for Arizona
In splendid sunshine dressed.
For thy beauty and thy grandeur,
For thy regal robes so sheen
We hail thee Arizona
Our Goddess and our queen.
---
---
Arizona State Quarter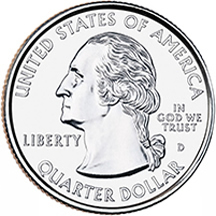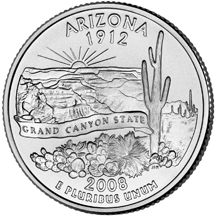 United States Mint 50 State Quarters© Program coin:
(United States Mint Images)
---