Arkansas State Facts and Symbols
Arkansas became the 25th state in 1836 and is the 33rd largest state by population with about 3 million residents. It is also the 27th largest state by land and water area with a total area of 53,179 square miles. The largest city in Arkansas is Little Rock, also the capital city, with a population of approximately 190,000 people.
The first permanent white settlement in Arkansas was the "Arkansas Post" established by the French. The area was first ruled by France, then by Spain, then again by France before being purchased by the United States. Under American control, Arkansas was part of the Louisiana Territory and then the Missouri Territory before becoming its own separate territory.
Included below are more facts and symbols, a state map, the state song and views of the Arkansas State Quarter.
---
---
Arkansas State Flag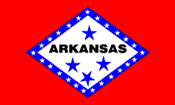 ---
Arkansas State Facts
Arkansas State Capital - Little Rock
State Motto - "Regnat Populus" (The People Rule)
State Flower - Apple Blossom
State Tree - Pine
State Bird - Mockingbird
State Butterfly - The Diana Fritillary Butterfly
State Insect - Honeybee
State Mammal - White-tailed Deer
State Dance - Square Dance
State Mineral - Quartz Crystal
State Gemstone - Diamond
State Rock or Stone - Bauxite
State Soil - Stuttgart Soil Series
State Fruit & Vegetable - South Arkansas Vine Ripe Pink Tomato
State Grape - Cynthiana (Vitis Aestivalis)
State Beverage - Milk
State Grain - Rice
State Nut - Pecan
State Cooking Vessel - Dutch Oven
State Instrument - Fiddle
Official State Web Site - arkansas.gov
---
---
---
Arkansas State Songs:
(There are four Arkansas Official State Songs)
1) Arkansas (You Run Deep in Me)
By Wayland Holyfield
2) Oh, Arkansas
By Terry Rose and Gary Klaff
3) Arkansas
By Eva Ware Barnett
4) The Arkansas Traveler
Lyrics by the Arkansas State Song Selection Committee
Music by Colonel Sanford (Sandy) Faulkner
---
---
Arkansas State Quarter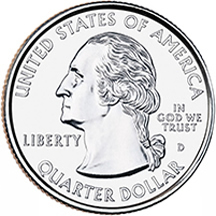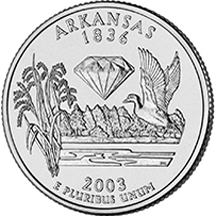 United States Mint 50 State Quarters© Program coin:
(United States Mint Images)
---