Delaware State Facts and Symbols
Delaware, established in 1787 and sometimes referred to as the "State That Started a Nation," was the first state of the United States and was also the first to ratify the US Constitution.
It is the 45th largest state by population with about 970,000 residents and is also the 49th largest state by land and water area with a total area of 2,489 square miles. Delaware is the sixth most densely populated state in the nation at about 400 people per square mile compared to the national average of about 350 people per square mile.
Included below are more facts and symbols, a state map, the state song and views of the Delaware State Quarter.
---
---
Delaware State Flag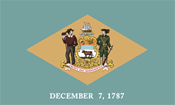 ---
Delaware State Facts
Delaware State Capital - Dover
State Nickname - The First State
State Motto - "Liberty and Independence"
State Flower - Peach Blossom
State Tree - American Holly
State Bug - Lady Bug
State Bird - Blue Hen
State Butterfly - Tiger Swallowtail
State Fish - Weakfish
State Marine Fish - Horseshoe Crab
State Mineral - Sillimanite
State Fossil - Belemnite
State Macroinvertebrate - Stonefly
State Soil - Greenwich Loam
State Star - Delaware Diamond
State Colors - Colonial Blue and Buff
State Beverage - Milk
State Dessert - Peach Pie
State Herb - Sweet Golden Rod
Official State Web Site - delaware.gov
---
---
---
Delaware State Song:
Our Delaware
First Verse
Oh the hills of dear New Castle,
and the smiling vales between,
When the corn is all in tassel,
And the meadowlands are green;
Where the cattle crop the clover,
And its breath is in the air,
While the sun is shining over
Our beloved Delaware.
Chorus
Oh our Delaware!
Our beloved Delaware!
For the sun is shining over
our beloved Delaware,
Oh our Delaware
Our beloved Delaware!
Here's the loyal son that pledges,
Faith to good old Delaware.
Second Verse
Where the wheat fields break and billow,
In the peaceful land of Kent,
Where the toiler seeks his pillow,
With the blessings of content;
Where the bloom that tints the peaches,
Cheeks of merry maidens share,
And the woodland chorus preaches
A rejoiceing Delaware.
Third Verse
Dear old Sussex visions linger,
Of the holly and the pine,
Of Henlopens Jeweled finger,
Flashing out across the brine;
Of the gardens and the hedges,
And the welcome waiting there,
For the loyal son that pledges
Faith to good old Delaware.
Fourth Verse
From New Castle's rolling meadows,
Through the fair rich fields of Kent,
To the Sussex shores hear echoes,
Of the pledge we now present;
Liberty and Independence,
We will guard with loyal care,
And hold fast to freedom's presence,
In our home state Delaware.
---
---
Delaware State Quarter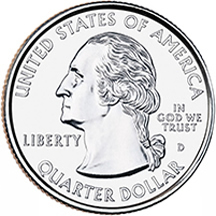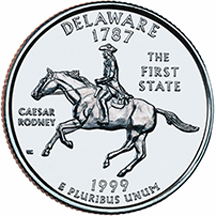 United States Mint 50 State Quarters© Program coin:
(United States Mint Images)
---