Georgia State Facts and Symbols
Georgia became the 4th state in 1788 and is the 8th largest state by population with about 10.5 million residents. It is also the 21st largest state by land and water area with a total area of 59,425 square miles. Georgia's capital city is Atlanta, which is the nation's 33rd largest city with a population of approximately 540,000 people.
Georgia was the last of the original 13 colonies to be founded. The Georgia colony was founded by James Edward Oglethorpe, a member of the British Parliament before coming to America. In establishing the Georgia colony, he was trying to find a better way to deal with England's "worthy poor" instead of them being jailed for their indebtedness.
Included below are more facts and symbols, a state map, the state song and views of the Georgia State Quarter.
---
---
Georgia State Flag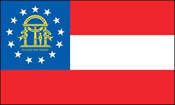 ---
Georgia State Facts
Georgia State Capital - Atlanta
State Nickname - The Peach State
State Motto - "Wisdom, Justice, and Moderation"
State Flower - Cherokee Rose
State Tree - Live Oak
State Bird - Brown Thrasher
State Butterfly - Tiger Swallowtail
State Fish - Largemouth Bass
State Insect - Honeybee
State Reptile - Gopher Tortoise
State Amphibian - Green Tree Frog
State Fossil - Shark Tooth
State Dance - Square Dancing
State Mineral - Staurolite
State Gemstone - Quartz
State Food - Grits
State Fruit - Peach
State Vegetable - Vidalia Onion
State Crop - Peanut
Official State Web Site - georgia.gov
---
---
---
Georgia State Song:
Georgia On My Mind
The words were written by Stuart Gorrell.
The music was composed by Hoagy Carmichael.
(Georgia On My Mind was famously performed separately by Ray Charles and Willie Nelson)
Georgia, Georgia,
The whole day through
Just an old sweet song
Keeps Georgia on my mind

I said Georgia
Georgia
A song of you
Comes as sweet and clear
As moonlight through the pines

Other arms reach out to me
Other eyes smile tenderly
Still in peaceful dreams I see
The road leads back to you

I said Georgia,
Ooh Georgia, no peace I find
Just an old sweet song
Keeps Georgia on my mind

Other arms reach out to me
Other eyes smile tenderly
Still in peaceful dreams I see
The road leads back to you

Georgia,
Georgia,
No peace, no peace I find
Just this old, sweet song
Keeps Georgia on my mind

I said just an old sweet song,
Keeps Georgia on my mind
---
---
Georgia State Quarter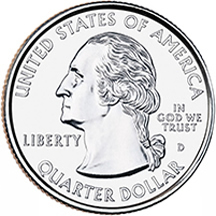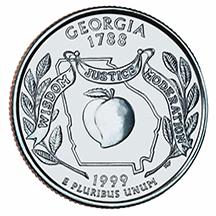 United States Mint 50 State Quarters© Program coin:
(United States Mint Images)
---