Hawaii State Facts and Symbols
Hawaii became the 50th state in 1959 and is the 40th largest state by population with about 1.4 million residents. It is also the 47th largest state by land and water area with a total area of 10,931 square miles. Honolulu, the state capital, is Hawaii's largest city with a population of approximately 375,000 people.
Hawaii is comprised of eight major islands. They are as follows (from smallest to largest): Kahoolawe, Niihau, Lanai, Molokai, Kauai, Oahu, Maui and the Big Island of Hawaii.
Included below are more facts and symbols, a state map, the state song and views of the Hawaii State Quarter.
---
---
Hawaii State Flag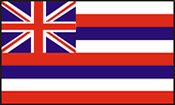 ---
Hawaii State Facts
Hawaii State Capital - Honolulu
State Nickname - The Aloha State
State Motto - "Ua Mau Ke Ea O Ka Aina I Ka Pono"
(The life of the land is perpetuated in righteousness)
State Flower - pua ma'o hau hele; Hibiscus brackenridgei (Yellow hibiscus)
State Tree - Kukui Tree
State Plant - Kalo
State Bird - Nene (Hawaiian Goose)
State Fish - Humuhumunukunukuapua'a
(Rectangular Trigger Fish or Hawaiian Trigger Fish)
State Insect - Pulelehua (Kamehameha butterfly)
State Mammal - Hawaiian Monk Seal
State Marine Mammal - Humpback Whale
State Dance - Hula
State Individual Sport - Surfing
State Team Sport - Outrigger Canoe Paddling
State Gemstone - Black Coral
Official State Web Site - hawaii.gov
---
---
---
Hawaii State Song:
Hawai`i Pono`i
Words by King David Kalakaua.
Music by Professor Henry Berger, the Royal Bandmaster.
Hawaii ponoi Nana i kou, moi
Kalani Alii, ke Alii.
Makua lani e Kamehameha e
Na kaua e pale Me ka ihe.
Translation:
Hawaii's own true sons, be loyal to your chief
Your country's liege and lord, the Alii(1).
Father above us all, Kamehameha(2),
Who guarded in the war with his ihe(3).
(1) Alii (ah-lee-ee) sovereign
(2) Kamehameha (Kah-may'-ha-may'-ha)
king who first unified the islands.
(3) Ihe (ee-hay) spear
---
---
Hawaii State Quarter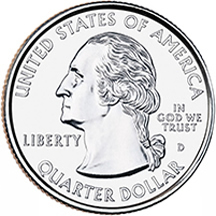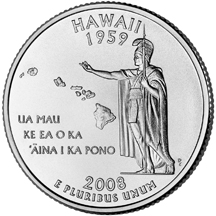 United States Mint 50 State Quarters© Program coin:
(United States Mint Images)
---