Maine State Facts and Symbols
Maine became the 23rd state in 1820 and is the 42nd largest state by population with about 1.3 million residents. It is also the 39th largest state by land and water area with a total area of 35,385 square miles.
Maine was originally part of Massachusetts. Frontier settlers wanted to separate from Massachusetts after the Revolution. In 1820, congress created the Missouri Compromise which established Maine as a free state and, to keep the balance between free and slave states, established Missouri as a slave state a year later.
Included below are more facts and symbols, a state map, the state song and views of the Maine State Quarter.
---
---
Maine State Flag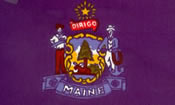 ---
Maine State Facts
Maine State Capital - Augusta
State Nickname - The Pine Tree State
State Motto - "Dirigo" (I Lead)
State Flower - White Pine Cone
State Tree - White Pine
State Bird - Chickadee
State Fish - Landlocked Salmon
State Animal - Moose
State Cat - Maine Coon Cat
State Insect - Honeybee
State Gemstone - Tourmaline
State Fossil - Pertica Quadrifaria
State Soil - Chesuncook Soil Series
State Herb - Wintergreen
State Berry - Wild Blueberry
State Vessel - The arctic schooner "Bowdoin"
Official State Web Site - www.maine.gov
---
---
---
Maine State Song:
State of Maine Song
Words and music by Roger Vinton Snow
Grand State of Maine,
proudly we sing
To tell your glories to the land,
To shout your praises till the echoes ring.
Should fate unkind
send us to roam,
The scent of the fragrant pines,
the tang of the salty sea
Will call us home.
CHORUS:
Oh, Pine Tree State,
Your woods, fields and hills,
Your lakes, streams and rock bound coast
Will ever fill our hearts with thrills,
And tho' we seek far and wide
Our search will be in vain,
To find a fairer spot on earth
Than Maine! Maine! Maine!
---
---
Maine State Quarter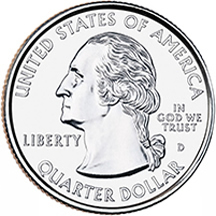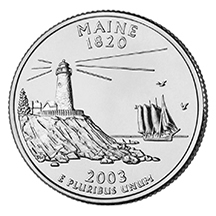 United States Mint 50 State Quarters© Program coin:
(United States Mint Images)
---