Missouri State Facts and Symbols
Missouri became the 24th state in 1820 and is the 18th largest state by population with about 6 million residents. It is also the 18th largest state by land and water area with a total area of 69,704 square miles. Missouri is home to Kansas City, with a population of approximately 480,000 people, and St. Louis with about 350,000.
The name Missouri originates with a tribe of Sioux Indians known as the Missouris whose name has been mistranslated as meaning "muddy water." While officials at the Smithsonian Institution have declared its meaning as "town of the large canoes," other officials have translated the Indian syllables within the word to mean "wooden canoe people" or "he of the big canoe."
Included below are more facts and symbols, a state map, the state song and views of the Missouri State Quarter.
---
---
Missouri State Flag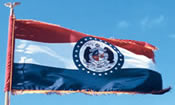 ---
Missouri State Facts
Missouri State Capital - Jefferson City
State Motto - "Salus Populi Suprema Lex Esto"
(Let the welfare of the people be the supreme law)
State Tree - Flowering Dogwood
State Bird - Bluebird
State Game Bird - Bobwhite Quail
State Fish - Channel Catfish
State Animal - Missouri Mule
State Aquatic Animal - Paddlefish
State Horse - Missouri Fox Trotting Horse
State Insect - Honeybee
State Reptile - Three-toed Box Turtle
State Invertebrate - Crayfish (Crawfish or Crawdad)
State Amphibian - American Bullfrog
State Mineral - Galena
State Fossil - Crinoid
State Dinosaur - Hadrosaur or "Duck Billed" Dinosaur
State Rock or Stone - Mozarkite
State Grass - Big Bluestem
State Tree Nut - Eastern Black Walnut
State Grape - Norton/Cynthiana Grape
State Floral Emblem - White Hawthorn Blossom
State Instrument - Fiddle
State American Folk Dance - Square Dance
Official State Web Site - www.mo.gov
---
---
---
Missouri State Song:
The Missouri Waltz
Hush-a-bye, ma baby, slumbertime is comin' soon;
Rest yo' head upon my breast while Mommy hums a tune;
The sandman is callin' where shadows are fallin',
While the soft breezes sigh as in days long gone by.
Way down in Missouri where I heard this melody,
When I was a little child upon my Mommy's knee;
The old folks were hummin'; their banjos were strummin';
So sweet and low.
Strum, strum, strum, strum, strum,
Seems I hear those banjos playin' once again,
Hum, hum, hum, hum, hum,
That same old plaintive strain.
Hear that mournful melody,
It just haunts you the whole day long,
And you wander in dreams back to Dixie, it seems,
When you hear that old time song.
Hush-a-bye ma baby, go to sleep on Mommy's knee,
Journey back to Dixieland in dreams again with me;
It seems like your Mommy is there once again,
And the old folks were strummin' that same old refrain.
Way down in Missouri where I learned this lullaby,
When the stars were blinkin' and the moon was climbin' high,
Seems I hear voices low, as in days long ago,
Singin' hush-a-bye.
---
---
Missouri State Quarter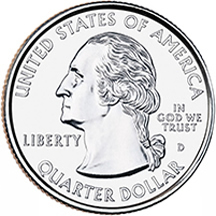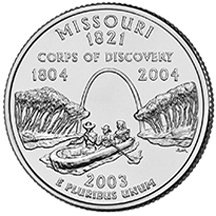 United States Mint 50 State Quarters© Program coin:
(United States Mint Images)
---