Montana State Facts and Symbols
Montana became the 41st state in 1889 and is the 43rd largest state by population with about 1 million residents. It is also the 4th largest state by land and water area with a total area of 147,042 square miles. Montana is home to Billings, which is the state's largest city with a population of approximately 100,000 people.
The name Montana came from a Spanish word meaning "mountainous."
Included below are more facts and symbols, a state map, the state song and views of the Montana State Quarter.
---
---
Montana State Flag
---
Montana State Facts
Montana State Capital - Helena
State Nickname - The Treasure State
State Motto - "Oro y Plata" (Gold and Silver)
State Flower - Bitterroot
State Tree - Ponderosa Pine
State Bird - Western Meadowlark
State Butterfly - Mourning Cloak
State Fish - Blackspotted Cutthroat Trout
State Animal - Grizzly Bear
State Gemstones - Agate and Sapphire
State Fossil - Duck-billed Dinosaur
State Grass - Bluebunch Wheatgrass
Official State Web Site - www.mt.gov
---
---
---
Montana State Song:
Montana
Lyrics by Charles Cohan
Melody by Joseph E. Howard
Tell me of that Treasure State
Story always new,
Tell of its beauties grand
And its hearts so true.
Mountains of sunset fire
The land I love the best
Let me grasp the hand of one
From out the golden West
Refrain:
Montana, Montana, Glory of the West
Of all the states from coast to coast, You're easily the best
Montana, Montana, Where skies are always blue
M-O-N-T-A-N-A, Montana I love you.
Each country has its flow'r;
Each one plays a part,
Each bloom brings a longing hope
To some lonely heart.
Bitterroot to me is dear
Growing in my land
Sing then that glorious air
The one I understand.
Repeat Refrain
---
---
Montana State Quarter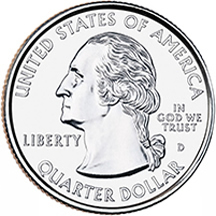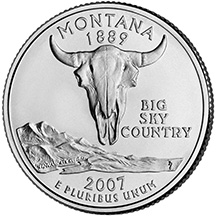 United States Mint 50 State Quarters© Program coin:
(United States Mint Images)
---