New York State Facts and Symbols
New York became the 11th state in 1788 and is the 4th largest state by population with about 19.8 million residents. It is also the 30th largest state by land and water area with a total area of 54,556 square miles. New York is home to the city, New York, which is the nation's largest city with a population of over 8 million people.
New York was named after the Duke of York and was one of the original 13 states. It also was the location of our nation's first capital, New York City where George Washington was inaugurated in 1789.
Included below are more facts and symbols, a state map, the state song and views of the New York State Quarter.
---
---
New York State Flag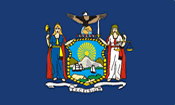 ---
New York State Facts
New York State Capital - Albany
State Nickname - The Empire State
State Slogan - "I Love NY"
State Motto - "Excelsior" (Ever Upward)
State Flower - Rose
State Tree - Sugar Maple
State Bush - Lilac
State Bird - Bluebird
State Animal - Beaver
State Freshwater Fish - Brook Trout
State Saltwater Fish - Striped Bass
State Insect - Ladybug
State Reptile - The Common Snapping Turtle
State Shell - Bay Scallop
State Fossil - Sea Scorpion
State Gemstone - Garnet
State Fruit - Apple
State Muffin - Apple Muffin
State Beverage - Milk
Official State Web Site - www.ny.gov
---
---
---
New York State Song:
I Love New York
Words and music by Steve Karmen
I LOVE NEW YORK (repeat three times)
There isn't another like it
No matter where you go
And nobody can compare it
It's win and place and show
New York is special
New York is diff'rent
'Cause there's no place else on earth
Quite like New York
And that's why
I LOVE NEW YORK (Repeat 3 times)
---
---
New York State Quarter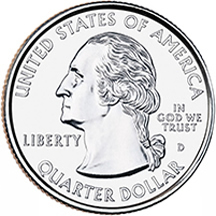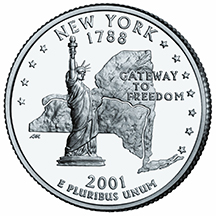 United States Mint 50 State Quarters© Program coin:
(United States Mint Images)
---