Pennsylvania State Facts and Symbols
Pennsylvania became the 2nd state in 1787 and is the 5th largest state by population with about 12.8 million residents. It is also the 32nd largest state by land and water area with a total area of 46,055 square miles. Pennsylvania is home to Philadelphia, which is the nation's sixth largest city with a population of approximately 1.5 million people.
King Charles II owed William Penn money which Admiral Penn had lent him. Seeking a haven in the New World for persecuted Friends, Penn asked the King to grant him land in the territory between Lord Baltimore's province of Maryland and the Duke of York's province of New York. With the Duke's support, Penn's petition was granted. The King signed the Charter of Pennsylvania on March 4, 1681, and it was officially proclaimed on April 2. The King named the new colony in honor of William Penn's father.
Pennsylvania is one of four states which consider themselves to be a Commonwealth. The other three are Massachusetts, Kentucky and Virginia. A State and a Commonwealth are considered to be the same and equal in regards to their status in the United States of America.
Included below are more facts and symbols, a state map, the state song and views of the Montana State Quarter.
---
---
Pennsylvania State Flag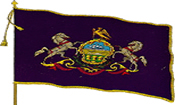 ---
Pennsylvania State Facts
Pennsylvania State Capital - Harrisburg
State Nickname - The Keystone State
State Motto - "Virtue, Liberty and Independence"
State Flower - Mountain Laurel
State Tree - Hemlock
State Plant -Penngift Crownvetch
State Game Bird - Ruffed Grouse
State Fish - Brook Trout
State Animal - Whitetail Deer
State Dog - Great Dane
State Insect - Firefly
State Fossil - Phacops Rana
State Ship - United States Brig "Niagara"
State Steam Locomotive - Pennsylvania Railroad K4s
State Electric Locomotive - Pennsylvania Railroad GG1 Locomotive Number 4859
State Beverage - Milk
Official State Web Site - www.pa.gov
---
---
---
Pennsylvania State Song:
Pennsylvania
Verse 1
Pennsylvania, Pennsylvania,
Mighty is your name,
Steeped in glory and tradition,
Object of acclaim.
Where brave men fought the foe of freedom,
Tyranny decried,
'Til the bell of independence
filled the countryside.
Chorus
Pennsylvania, Pennsylvania,
May your future be,
filled with honor everlasting
as your history.
Verse 2
Pennsylvania, Pennsylvania,
Blessed by God's own hand,
Birthplace of a mighty nation,
Keystone of the land.
Where first our country's flag unfolded,
Freedom to proclaim,
May the voices of tomorrow
glorify your name.
Chorus
Pennsylvania, Pennsylvania,
May your future be,
filled with honor everlasting
as your history.
---
---
Pennsylvania State Quarter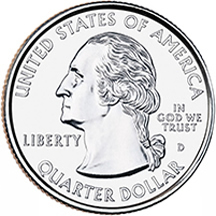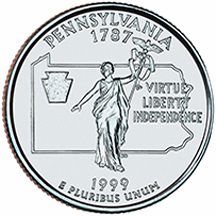 United States Mint 50 State Quarters© Program coin:
(United States Mint Images)
---