South Dakota State Facts and Symbols
South Dakota became the 40th state in 1889 and is the 46th largest state by population with about 877,000 residents. It is also the 16th largest state by land and water area with a total area of 77,116 square miles. The largest city in South Dakota is Sioux Falls with a population of approximately 155,000 people.
South Dakota and North Dakota became states on the same day. The order they were admitted is done alphabetically making North Dakota the 39th and South Dakota the 40th.
The name Dakota is a Sioux Indian word meaning "friend." The discovery of gold in the Black Hills in 1874 caused a rush of miners, prospectors and fortune seekers to that area. The arrival of the railroad also helped to speed up settlement in Dakota Territory. In 1878, the rush for land known as the "Great Dakota Boom" began.
Included below are more facts and symbols, a state map, the state song and views of the South Dakota State Quarter.
---
---
South Dakota State Flag
---
South Dakota State Facts
South Dakota State Capital - Pierre
South Dakota Greeting - "Hau Kola!" (Hello, Friend)
State Nickname - The Mount Rushmore State
State Slogan - "Great Faces. Great Places"
State Motto - "Under God The People Rule"
State Flower - pasque (May Day Flower)
State Tree - Black Hills Spruce
State Bird - Chinese Ring-necked Pheasant
State Fish - Walleye
State Animal - Coyote
State Insect - Honeybee
State Mineral - Rose Quartz
State Gemstone - Fairburn Agate
State Fossil - Triceratops
State Soil - Houdek
State Sport - Rodeo
State Jewelry - Black Hills Gold
State Dessert - Kuchen
Official State Web Site - sd.gov
---
---
---
South Dakota State Song:
Hail, South Dakota
Words and music by DeeCort Hammitt
Hail! South Dakota, A great state of the land,
Health, wealth and beauty, That's what makes her grand;
She has her Black Hills, And mines with gold so rare,
And with her scenery, No other state can compare.
Come where the sun shines, And where life's worth your while,
You won't be here long, 'Till you'll wear a smile;
No state's so healthy, And no folk quite so true,
To South Dakota. We welcome you.
Hail! South Dakota, The state we love the best,
Land of our fathers, Builders of the west;
Home of the Badlands, and Rushmore's ageless shrine,
Black Hills and prairies, Farmland and Sunshine.
Hills, farms and prairies, Blessed with bright Sunshine.
---
South Dakota State Pledge:
South Dakota State Pledge:
"I pledge loyalty and support to the flag and state of South Dakota, land of sunshine, land of infinite variety."
(The pledge to the flag and to the state may not preempt,
replace or be recited before the pledge of allegiance to the flag of the United States.)
---
---
South Dakota State Quarter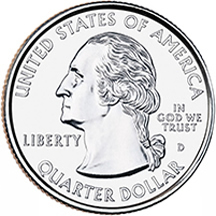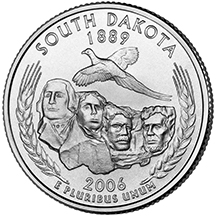 United States Mint 50 State Quarters© Program coin:
(United States Mint Images)
---