Tennessee State Facts and Symbols
Tennessee became the 16th state in 1796 and is the 16th largest state by population with about 6.7 million residents. It is also the 34th largest state by land and water area with a total area of 42,143 square miles. Tennessee is home to Memphis, which is the nation's 19th largest city with a population of approximately 670,000 people. Also Nashville, the state's capital city, which is the nation's 26th largest city at about 600,000.
The name Tennessee came from the Indian word "Tanasi," which was the name of a Cherokee town.
Included below are more facts and symbols, a state map, the state songs and views of the Tennessee State Quarter.
---
---
Tennessee State Flag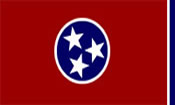 ---
Tennessee State Facts
Tennessee State Capital - Nashville
State Nickname - The Volunteer State
State Slogan - "Tennessee-America at its Best"
State Motto - "Agriculture and Commerce"
State Flower - Iris
State Wildflower - Passion Flower
State Tree - Tulip Poplar
State Bird - Mockingbird
State Game Bird - Bobwhite Quail
State Commercial Fish - Channel Catfish
State Sport Fish - Largemouth Bass
State Animal - Raccoon
State Insects - The Firefly and the Ladybug
State Butterfly - Zebra Swallowtail
State Reptile - Box Turtle
State Horse - Tennessee Walking Horse
State Amphibian - Tennessee Cave Salamander
State Mineral - Agate
State Gemstone - Freshwater Pearl
State Rock or Stone - Limestone
State Fruit - Tomato
Official State Web Site - www.tn.gov
---
---
---
Tennessee State Songs:
(There are seven official state songs for Tennessee)
#1) My Homeland, Tennessee
The words were written by Nell Grayson Taylor.
The music was composed by Roy Lamont Smith.
#2) When It's Iris Time In Tennessee
by Willa Waid Newman
#3) My Tennessee
by Frances Hannah Tranum
#4) Tennessee Waltz
by Redd Stewart and Pee Wee King
#5) Rocky Top
by Boudleaux and Felice Bryant
#6) Tennessee
by Vivian Rorie
#7) The Pride of Tennessee
by Fred Congdon, Thomas Vaughn and Carol Elliot
---
---
Tennessee State Quarter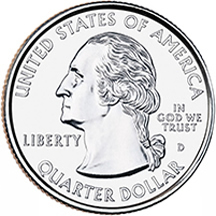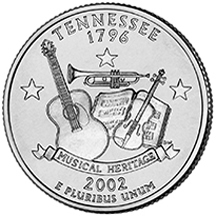 United States Mint 50 State Quarters© Program coin:
(United States Mint Images)
---