Washington State Facts and Symbols
Washington became the 42nd state in 1889 and is the 13th largest state by population with about 7.5 million residents. It is also the 20th largest state by land and water area with a total area of 71,300 square miles. Washington is home to Seattle, which is the state's largest city with a population of approximately 598,000 people.
Washington is the only one of the fifty states to be named for a president and is home to Mount St. Helens, an active volcanoe which erupted in 1980.
Included below are more facts and symbols, a state map, the state song and views of the Washington State Quarter.
---
---
Washington State Flag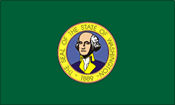 ---
Washington State Facts
Washington State Capital - Olympia
State Nickname - The Evergreen State
State Motto - "Al-ki or Alki" (an Indian word meaning "bye and bye.")
State Flower - Coast Rhododendron
State Tree - Western Hemlock
State Bird - Willow Goldfinch
State Fish - Steelhead Trout
State Marine Mammal - Orca
State Endemic Mammal - The Olympic Marmot
State Insect - Green Darner Dragonfly
State Amphibian - Pacific Chorus Frog
State Grass - Bluebunch Wheatgrass
State Gemstone - Petrified Wood
State Fossil - Columbian Mammoth
State Dance - Square Dance
State Ship - Lady Washington
State Fruit - Apple
State Vegetable - Walla Walla Sweet Onion
Official State Web Site - wa.gov
---
---
---
Washington State Song:
Washington, My Home
Written by Helen Davis
Arranged by Stuart Churchill
This is my country; God gave it to me;
I will protect it, Ever keep it free.
Small towns and cities rest here in the sun,
Filled with our laughter. Thy will be done.
(refrain)
Washington my home;
Where ever I may roam;
This is my land, my native land, Washington, my home.
Our verdant forest green,
Caressed by silv'ry stream.
From mountain peak to fields of wheat, Washington, my home.
There's peace you feel and understand.
In this, our own beloved land.
We greet the day with head held high,
And forward ever is our cry.
We'll happy ever be
As people always free.
For you and me a destiny;
Washington my home.
For you and me a destiny;
Washington my home.
---
Washington State Folk Song:
Roll On, Columbia, Roll On
Written by Woody Guthrie
Roll on, Columbia, roll on
Roll on, Columbia, roll on
Your power is turning our darkness to dawn
So roll on, Columbia, roll on.
Green Douglas firs where the waters cut through
Down her wild mountains and canyons she flew
Canadian Northwest to the oceans so blue
Roll on Columbia, roll on
Other great rivers add power to you
Yakima, Snake, and the Klickitat, too
Sandy Willamette and Hood River too
So roll on, Columbia, roll on
Tom Jefferson's vision would not let him rest
An empire he saw in the Pacific Northwest
Sent Lewis and Clark and they did the rest
So roll on, Columbia, roll on
It's there on your banks that we fought many a fight
Sheridan's boys in the blockhouse that night
They saw us in death but never in flight
So roll on Columbia, roll on
At Bonneville now there are ships in the locks
The waters have risen and cleared all the rocks
Shiploads of plenty will steam past the docks
So roll on, Columbia, roll on
And on up the river is Grand Coulee Dam
The mightiest thing ever built by a man
To run the great factories and water the land
So roll on, Columbia, roll on
These mighty men labored by day and by night
Matching their strength 'gainst the river's wild flight
Through rapids and falls, they won the hard fight
So roll on, Columbia, roll on
---
---
Washington State Quarter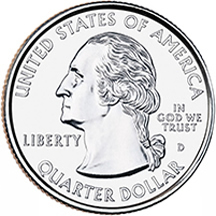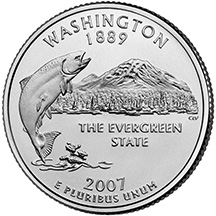 United States Mint 50 State Quarters© Program coin:
(United States Mint Images)
---